Ads are at the core of any successful business. Getting your message, product, or service out to the world is how you make your money. Our ad structure provides a fresh, visible, and cost-effective way to reach more customers.
On this page you can find out:
Why Our Method Is Awesome
Take a look at some of our innovative advertising features. Sign up for yourself and see why hundreds of companies are switching their advertising to AeroAds!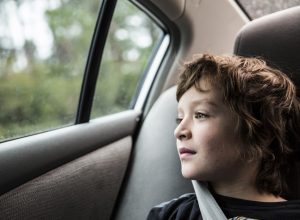 The Perfect Placement
Each ad panel has an usable area of 15ft by 2ft, which gives a billboard-sized ad right at eye level!
When a motorist passes a transport truck, their eyes immediately glance at the undercarriage every single time. Our ads are placed in this exact location.
In addition to the driver viewing the ads, there are also totally captive passengers who gaze out the window over 91% of the time!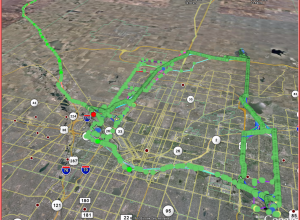 Knowledge Is Power
Your ad is most useful when you can see analytics. The internet is saturated with ads that do not convert. This is new territory!
We can give you analytical data on: the time of day your ad is on the move, its geographic location, the route it takes, the estimated number of people that have seen your ad per day.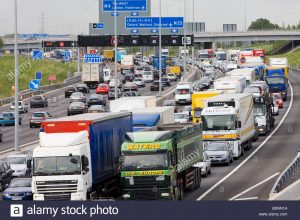 No Ad-Block Here
Roads are only getting more congested, which is good news for your ads! Every time there is a traffic jam your ads are seen for lengths of time far greater than TV commercials, bill boards, or internet ads. 
These are ads that can't be turned-off, muted, or ad-blocked. Whenever your ads are on the road, they will have a 100% view-rate.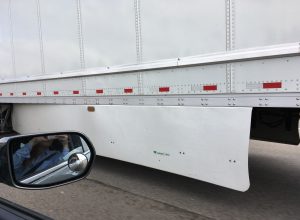 Good As New
We know that having an ad that is clean, in good condition, and legible correlates with brand perception.
Every month, we do inspections to make sure your ad is in good repair, free from large scuffs or tears. 

There is also a monthly add-on to keep your ad clean from the elements (see below)
How We Can Help Promote Your Ads
We have a variety of ways to ensure you are getting the most out of your ads
Some of our tiers give you a monthly report detailing your ads' routes, cost per mile, calculated impressions (based on route data and government traffic data), geographic targeting, ad optimization and more! 
We provide you with the powerful analytics of social media ads, with the visibility of mobile billboards!
We know that keeping your ad campaign fresh is key to your marketing success. Here's how we help:
6 Month Term: No Ad Swap
12 Month Term: 1 FREE Ad Swap1
24 Month Term: 3 FREE Ad Swaps1
36 Month Term: 5 FREE Ad Swaps1
100% Recyclable, 100% Beautiful
Our ads are made out of PET (Polyethylene terephthalate) which is an extremely weather-resistant material that is 100% recyclable. It is also 100% PVC-free!
We are also using HP Latex Ink Technology which is a water based ink. It produces vibrant colours that are UV stable, without the negative environmental consequences of oil-based ink. 
Super-Hydrophobic Coating
Upgrade to our monthly protection plan.
We thoroughly clean then spray your ads with Never Wet® which stops dirt, mud, salt brine, snow, and ice from building up on your ads.
Our pricing structure allows you to choose the experience that suits your needs best. Don't miss how you can save BIG!
1 banner ad graphic (same ad on both sides of the trailer) 
Basic quality PET material
Standard Route Data
Estimated Impressions
1 banner ad graphic (same ad on both sides of the trailer) 
High-Quality UltraFlex PET material
GPS route data
Calculated Impressions
2 banner ad graphics (different ad on each side of the trailer) 
High-Quality UltraFlex PET material
Advanced GPS route data
Calculated Impressions
Detailed Analytic breakdown (CPM, Geographic targeting, ad optimization report)
Super-Hydrophobic coating standard
We know that every dollar counts. We have ways to save you a lot of your hard-earned cash when advertising with us. We offer massive discounts for bulk ad purchases over the 10 ad minimum, as well as discounts for longer terms (over the 6 month minimum).
Something special: Our discounts STACK!3 How awesome is that?

When you sign up, let one of our representatives know that you want to save BIG!
A Comparison Against Other Forms Of Advertising
Analytics: Information presented to you in a useful manner to help make better advertisements.
Customer Targeting: The ability to target certain demographics, socio-economic status, and age groups with your ads.
Customer Retention: The ability for a potential customer to remember your ad.
Customer Saturation Point: The point at which a customer no longer responds to your ad. This is from being shown too many ads in the same manner (pop-ups, flyers, etc.) and being targeted at the wrong time.
Disclaimers:
See our Terms and Conditions for a complete qualification for the term free.
Pricing/savings/promotions subject to change without notice.
See terms and conditions regarding stacking discounts
Not Used